Concrete Skips
At DRE we have a wide selection of concrete cones to suit many different needs.
we have the following types for hire available in the sizes listed.
DRE in Bunclody have being manufacturing and supplying Concrete Cone Skip's &

Lifting Equipment to GA1 standard in Ireland for over 20 years. We sell concrete cone skip, banana skip, straight flow skips, hydraulic cones, teleporter concrete skips.



Hydraulic Cone / Teleporter Cone


Available in 1/2m3 & 3/4m3

Hydraulic ram & hose are optional

Multi directional fork pick up

Quick attach can be fitted to suit any machine, JCB, New Holland ect

Ride On Straight Flow Cone


Available in 3/4m3, 1m3, 1 1/2m3

Complete with Ride-on cage geared door and layflat hose

Straight Flow/Elephant Trunk cone


Available in 3/4m3, 1m3, 1 1/2m3

Complete with layflat hose 1.5m long

Quick attach can be fitted to suit any machine, JCB, New Holland ect




Roll Over Coloumn Cone


Available in 3/4m3, 1m3, 1 1/2m3

Designed for use with a crane via lifting eyes

Banana Cones


Available in 3/4m3, 1m3, 1 1/2m3

Designed for use to be lifted by a crane via lifting eyes

Twin Flow Skip

Available in 1/4m3, 1/2m3, 3/4m3

Designed for use to be lifted by a crane via lifting eyes
Services:

We offer a wide range of servies on all lifting equipment including Concrete Cones such as:




Testing & Inspecting

Repair & Maintenance

Testing & Certifying to GA1 Certification

Also we have replacement & spare parts in stock:




Chains & Lifting equipment

Elephant trunks & hoses

Discharge Valves

Shutes & hoses

Hose clips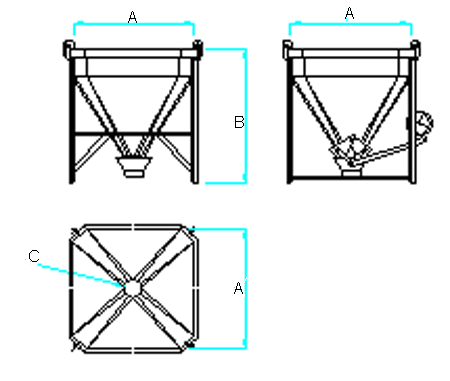 | | | | | | | | |
| --- | --- | --- | --- | --- | --- | --- | --- |
| MODEL | A | B | C | HOSE LG. | NET WT. | CAP LTRS | W.L.L. Kg |
| 500 | 1000 | 1500 | 200 | Optional | XXX Kg | 500 | 1250 |
| 750 | 1250 | 1500 | 200 | Optional | XXX Kg | 750 | 2200 |
| 1000 | 1500 | 1500 | 200 | Optional | XXX Kg | 1000 | 3000 |
| 1500 | 1500 | 1500 | 200 | Optional | XXX Kg | 1500 | 4500 |